May 7th, 2016 | Published in Drama
Written and directed by Brian Mitchell
(co-writer of Edinburgh hits Those Magnificent Men and Big Daddy Vs. Giant Haystacks)
Associate Director: Guy Picot
Originally co-developed with The Nightingale Theatre and The Yvonne Arnaud Mill Studio in a production supported by Arts Council England
"An unqualified success…This was drama of the highest quality – delivered with energy, pace and good timing. A real triumph."
- David Green, East Anglian Daily Times
"Two brilliant actors, sharp dialogue and spotless writing and direction make this a highly entertaining, very funny production."
- Rachel Pegg, Latest 7
Fogeyish scriptwriter Philip and eager, young art student Kath hover frustratingly in that awkward region somewhere between friendship and love. He is twenty-nine going on forty, and she a nineteen-year-old with far more experience and wisdom than her years. Over the course of three meetings over two years at the turn of the Millenium, they jockey, vie, scheme and battle for position, with comical, and sometimes brutal, results.
Can the romantic setting of the Blue Peter Italian Garden bring the outcome Philip so ardently desires? Or will his hopes remain sunken?
Love in The Blue Peter Garden* is a touching, hilarious and often cringe-inducing portrayal of just how rubbish humans can be in the pursuit of love. Written and directed by Brian Mitchell (award-winning director/co-writer of hit plays 'Those Magnificent Men' and 'Big Daddy Vs. Giant Haystacks'), its flexible staging, brilliant young cast, intimate style and universal subject make it ideal for rural touring.
"It was so well written and the acting was so good…There was humour and pathos in equal measure and plenty of empathy with the characters." – Susan Hawkes, Evening Star
"Gifted with witty one-liners…An unpretentious play that many audiences will enjoy due to its focus on witty dialogue and sharp characterisation…a well-paced compelling story of tantalising love." – Wilf Arasaratnam, BBC Suffolk
Arts Industry Comments on the Original Production
*originally produced under the title 'The October Revolutions'
About the author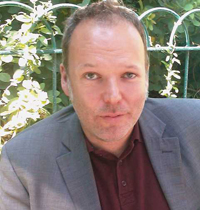 For information on Brian Mitchell see here
---
Email Brian Mitchell | View all posts by http://www.foundrygroup.co.uk/?page_id=370