June 27th, 2017 | Published in Uncategorized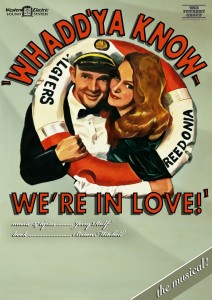 Songs by Jerry Rulf
Book by Brian Mitchell
In 1993, musician Jerry Rulf premiered his original 25 minute musical comedy 'Whaddya Know – We're In Love' at Brighton Dome (pictured). It was an unabashed tribute to the "Let's Do The Show Right Here!" school of musical theatre with glorious, Swing-Era songs – and it was a hit.
Now, 24 years later, he and Brian Mitchell, his former co-presenter on Radio Reverb's 'Up Yours', have expanded the show, with Rulf contributing additional songs and Mitchell writing a new book based on the same archetypal setting as the original – a cruise liner that would seem eerily familiar to the Marx Brothers
and Bob Hope and Bing Crosby.
The Foundry Group is proud to present a rehearsed reading with live songs of this new, expanded show, with three of the original cast – Samantha Dixon, Jerry Rulf and singer-songwriter Jason Pegg (Clearlake) – and the addition of Radio 4 regular David Mounfield.
This performance will take place at The Latest Music Bar, 22 Manchester Street, Brighton on 28th March, 2017, 8pm. Entrance £5.
Hear a sneak preview here: We Gotta Find Joey
Purchase tickets here.
About the author

---
Email Artwerx Digital | View all posts by