Whaddya Know – We're in Love!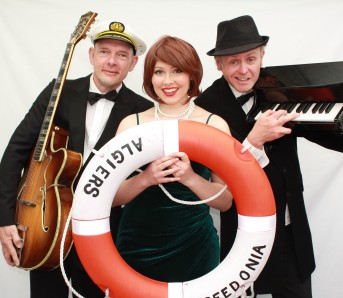 Songs by Jerry Rulf
Book by Brian Mitchell
"As fresh as the coming weekend. First-class musical entertainment….Irresistible." – FringeReview
"An hour-long musical romp with period style songs, jolly and silly lyrics, and sharp-shooting dialogue….Not to be missed. A real treat." – GScene
"Terrific original vintage-style songs…Whips up the audience near hysteria…Great, good-hearted fun." – Sussex Playwrights
All aboard! Full steam ahead on SS Freedonia for the craziest show at Brighton Fringe. Four musicians with a secret, a girl in a green velvet gown, stowaways, a Mediterranean monarch, and glorious, unforgettable swing era style songs make this mad-cap tribute to the Marx Brothers, Bob Hope and Bing Crosby and the 'Let's-Do-The-Show-Right-Here!' school of musical theatre a must-see.
The Foundry Group is proud to present this world premiere at Rialto Theatre in May's Brighton Fringe, starring Radio 4 regular David Mounfield, comedian and musician Glen Richardson (Radio 2′s 'The Day the Music Died'), Amy Sutton ('The Ministry of Biscuits') and Jerry Rulf ('The Spudguns').
Age suitability: 7+
Hear a sneak preview: All The Chapters of My Book
…and another: We Gotta Find Joey
More details to be announced.