Mitchell and Nixon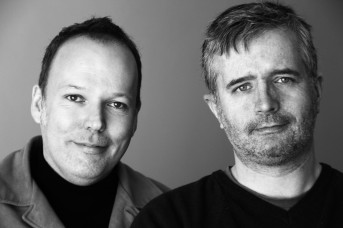 Brian and Joseph met at primary school in Derbyshire. In 1992 they founded the award-winning sketch group The Ornate Johnsons. They share a string of writing credits for the stage including the Edinburgh hit plays 'Big Daddy Vs. Giant Haystacks' and 'Those Magnificent Men' and the acclaimed  adaptation 'Gilbert (No Sullivan)'. They also co-wrote 'The Cheeky Guides to Student Life' and 'To Love', were head sketch writers on Radio 4's 'Jo Caulfield Won't Shut Up' and BBC1's 'Live and Kicking', as well as the TV comedy shows 'Slightly Filthy' (LWT) and 'The Ornate Johnsons' Edwardian Spectacular' (BBC 4). In 2020 their play sequence 'Seven Studies in Salesmanship' is to be revived by The Foundry Group in a new production starring Graham Duff (BBC's 'Ideal') and Joanna Neary.
Joseph Nixon co-wrote the sell-out hit Edinburgh show 'The Shark is Broken' with actor Ian Shaw (Assembly Festival 2019) and Joanna Neary's 'The Crab Prince' (Brighton Festival 2019 and touring).
With the Carnegie-Medal-winning author Philip Reeve, Brian Mitchell wrote the acclaimed musical comedy 'The Ministry of Biscuits', which toured over forty venues in 2018 to sell-out houses. He and Reeve are currently adapting Reeve and Sarah McIntyre's 'Pugs of The Frozen North' for a Foundry Group tour, while 'Whaddya Know – We're in Love!', his musical with Jeremy Rulf, plays Greenwich Theatre and The Hawth Crawley in autumn 2019. A classically-trained composer, his songs for the Perrier-Nominated show, 'Joanna Neary Is Not Feeling Herself', have been broadcast on Radios 1, 2 and 4 and have played Bloomsbury Theatre.