The Foundry Group is a band of writers and performers committed to producing affordable, popular, intelligent touring shows with a broad appeal.
We are deeply saddened to announce the death of dearly-loved actor, writer, comedian and Foundry Group founder-member David Mounfield. He passed away on 14th March, aged 50, from cancer. Our thoughts and sympathy are with his wife, Lynn, son, Eddie, and all who loved him. He will be – is – very greatly missed.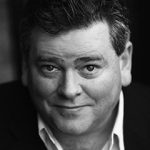 ALL FOUNDRY GROUP SHOWS IN SPRING ARE POSTPONED DUE TO CORONAVIRUS. DETAILS TO BE ANNOUNCED.
Acclaimed writers Brian Mitchell and Joseph Nixon have adapted the best of the supernatural tales of Thomas Ingoldsby (aka Rev. Richard Harris Barham) into this hilarious show. Expect ghosts, demons, witches, smuggling, robbery and murder – all told in brilliantly witty, rumbustious verse. It previews at Rialto Theatre 15th December, 2019 and is generally available for booking from autumn 2020.
Our new stage adaptation of Philip Reeve and Sarah McIntyre's delightful children's best-seller Pugs of the Frozen North kicks off a mini-tour in February half term at Stamford Arts Centre. This production, developed in association with popular children's company Bard and Troubadour, is written by Philip Reeve and Brian Mitchell (with music by Mitchell) following on from their success with The Ministry of Biscuits. Tour dates here.
Whaddya Know – We're in Love! – our 'irresistible' (FringeReview) new musical comedy by songwriter Jerry Rulf and playwright Brian Mitchell – continues in April 2020 following a glowing reception in 2019.
See tour dates here.
Our popular production of Mitchell & Nixon's hit play 'Those Magnificent Men', which tells the hilarious and gripping story of Alcock and Brown and the first ever non-stop transatlantic flight, continues with dates in late spring. Tour dates here.
Those Magnificent Men – trailer
For information, or if you are interested in booking a show, please go to SHOWS on the toolbar, or visit the 'In Development' section to the right of this page.
---